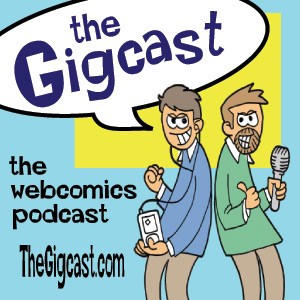 JT and Scott Talk Webcomics with Nick Nitro of Dribble for Kids and The Good, Bad and The Geeky podcast. Shallow Thought form Christiana Ellis, TB-BA Spotlight from Brian Anderson., and we visit the Nightgig Lounge to hear the music of The Hosts.
Guest:
Links:
DavidGallaher @JTShea – The critically acclaimed werewolf western, HIGH MOON started its third season during Monday night's full moon! highmooncomic.com
sekelsky @JTShea www.webcomicsweekend.com, naturally.
Zorphbert and Fred have a new official website? It's now at: www.zfcomics.com
TB-BA Spotlight:
The Gigcast
A Nightgig Studios Production – http://www.nightgig.com
Have News or a Comment?  Want to tell JT and Scott they are full of it?
E-mail: gigcast@nightgig.com
NightGig/Gigcast Title Theme By Beatnik Turtle



One of the Farpoint Media family of shows – www.farpointmedia.net,
Released under a Creative Commons Attribution NonCommercial No-Derivs 2.5 license