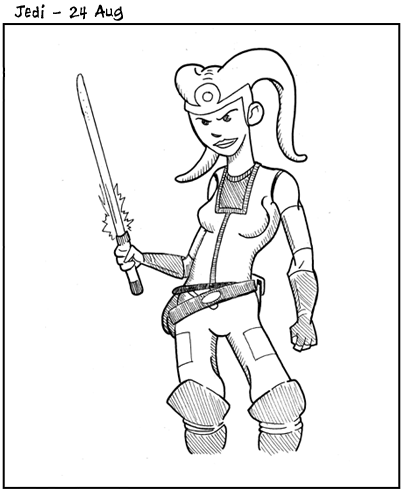 Interview with Wes Molebash of You'll Have That! And JT and Scott talk Webcomics,  Christian Ellis Shallow Thoughts
Banter:

Show 1 of Fourth Year

INTERVIEW

Wes Molebash: You'll Have That  New URL http://www.yhtcomic.com
new site designed by Chris William http://www.martinilab.com
Project Wonderful  http://www.projectwonderful.com


Planet Karen is BACK!
http://planetkaren.girl-wonder.org/


O'Deer Closes up shop after 5 years – Books on sale
http://www.odeercomics.com/


To celebrate five years, I am selling the O' deer book at half price! That's $4.95 (plus S&H) It's a steal! And if you buy two books, I will throw in an original character sketch! So get your copy today. Get one for yourself or buy it for a friend. This is for a limited time only.



Schlock Mercenary 3000 strips as of 8/28/08
http://www.schlockmercenary.com/


From the website: I've never missed a day. There have been no guest weeks, no two-for-Tuesdays to cover a missed-it-Monday, and no stretches where I hurriedly threw together a week of Ennesby and Schlock doing plot exposition because I knew I could get seven days of that penciled, inked and colored inside of four hours.



Webcomic Xylia is running a contest right now for its fans.
http://xyliatales.com/


BE AN AZLOEAN CONTEST
call for entries continues! Submit character ideas and a photo of yourself and readers will vote on who gets to be drawn!  The prize?  The winner gets to appear in the webcomic as a faerie.  All you have to do is submit a photo, aura color, name meaning or letter for name to start with, and type of wings.  A panel of judges will narrow the final results to about ten, and then the readers will get to pick who appears in Xylia.
josh hendrickson

Star Wars: Clone Wars Web comics coming in November.


Grant Gould broke the news last night (at least online) that he, Tom Hodges, Katie Cook, and Jeff Carlisle will be working on a The Clone Wars web comic for StarWars.com to accompany the tv series. Hodges revealed more this morning on the TFN boards:
The quick version is each week, we'll be given a story leading into that weeks episode. Now it could be a direct tie-in or peripherally connected from a distance because some episodes have story arcs not connected to each and every episode. Keep in mind, the series will not always be about Anakin, Obi-Wan and Padme. It will flesh out characters we've only seen bits and pieces of.

This will also NOT be "web-strip" format. It will be full color, comic format and each story will be 5 pages in length.
AND

Star Wars: Visions of the Blade – An Online Original Comic  Online Now.


Sugary Serials
http://www.sugaryserials.com/
Sugary Serials is a comics anthology of all ages, full-color comics created with the sensibilities of the Saturday Morning Cartoon in mind. Get ready for stories with vibrant characters and a good mix of danger and fun.
The anthology updates daily on the web, and each issue's content is collected in print at month's end.
We are published by 01 Comics, and our print component is managed by Ka-Blam Digital Printing and their online store and fulfillment house, IndyPlanet.
Twitter Update: Jerzy @JTShea Sugary Serials hits issue 12 next week, celebrating our first anniversary. http://sugaryserials.com

Speaking of which… The TB-BA Spotlight includes the sugary Serials member…

TB-BA Spotlight


Oh, one more tidbit: the first DeD collection comes out Monday! Available Barnes and Nobles, Borders, and hopefully a lot of mom and pop stores.

Twitter Bits


Frumph @JTShea Noms being accepted on 1st of sep at wcrca.frumph.net,
extralife's scott johnson interv'd @ http://www.2old2play.com & krishna rocks teh wii and   Bloomberg mistakenly publishes Steve Jobs obituary


pinkertonpark @JTShea webcomic news:  I've come to the realization that i'm a fat-headed dips$#t.  Over and out.





The Gigcast
A Nightgig Studios Production – http://www.nightgig.com
www.thegigcast.com
Have News or a Comment?  Want to tell JT and Scott they are full of it?
E-mail: gigcast@nightgig.com


One of the Farpoint Media family of shows – www.farpointmedia.net,
Released under a Creative Commons Attribution NonCommercial No-Derivs 2.5 license